Your garage isn't just a place to park your car. Most home owners use a garage for storage as well. Sometimes when the garage starts to leak and there is a problem with the roof of the garage, you will need to call for help. That's when you'll need the professional roofers at Troy Roofing Pros. We offer full garage roofing repair and replacement for your home in Troy Michigan and guarantee the work we provide. Our goal is complete customer satisfaction. 
Garage Roofing Repair and Replacement in Troy Michigan
There are lots of reasons why a garage may start leaking. In fact, many times the garage will start leaking and the home owner will not know about it. When a roofing leak first starts it usually isn't visible in the garage. Instead, the water can travel down sheeting and into walls. After some time the water may seep through the sheeting and insulation to reach the ceiling of the garage and then the leak may be noticed by the home owner. If you notice dark spots that look as if they are wet or caused by water then you'll need to get your roof checked for leaks. Chances are the entire attic of the garage is wet.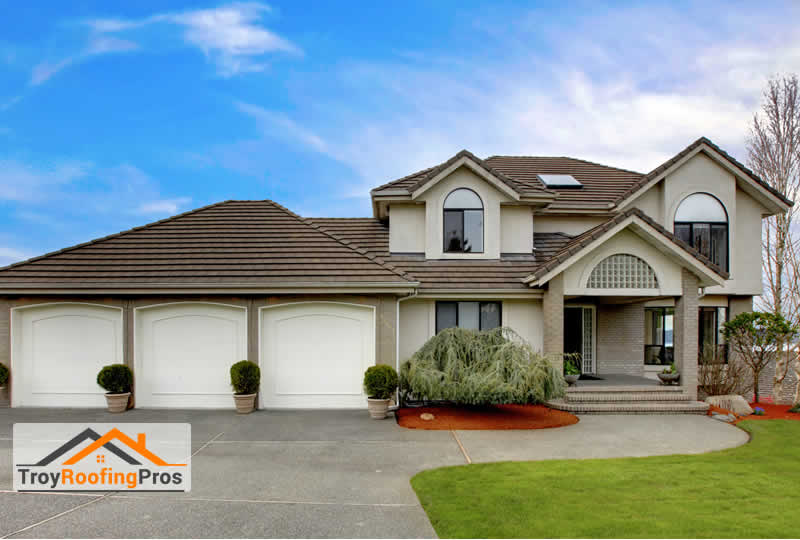 Once you find out there may be a leak in your garage it's important to take steps to help minimize the damage. The step you'll need to take is to call Troy Roofing Pros for a roofing inspection of the problem area. Don't go onto the roof of your home because the leak could have weakened underlying sheeting causing you to fall through the roof. Troy Roofing Pros will send a roofing expert to your home in inspect the roof and give suggestions on how to deal with the problem. We can also provide a free roofing estimate in Troy Michigan and surrounding areas.
It's Not Just Your Car You Need to Protect
Most people store all sorts of items in their garage. From lawn mowers to boats to old family photos the garage is a home for most of these items. So when you get a leak in the roofing of the garage it's not just the car that could get damaged. Having a leaking roof means you'll get damage on all the other items in your garage too. And the worst part of the leak could be that it goes without being noticed for some time. Since most people don't inspect the areas of the garage each and every day there could be leaks in your garage that have been there for some time without you even noticing it. You may want to periodically check areas of your garage if it has items piled up to see if there is water or other signs of a leaking garage roof. And if you see signs of a leaking roof then it's time to call Troy Roofing Pros for garage roofing repair or replacement.
If your garage roof is failing you may want to consider replacing the entire garage roof. Sometimes older roofing materials will start to fail causing more and more leaks to form. If your garage leaks are being caused by aging roofing material then garage roofing repair may not be the best choice and you may need to completely recover your garage instead with a garage roofing replacement. Continually repairing the roof will cost more in the long run.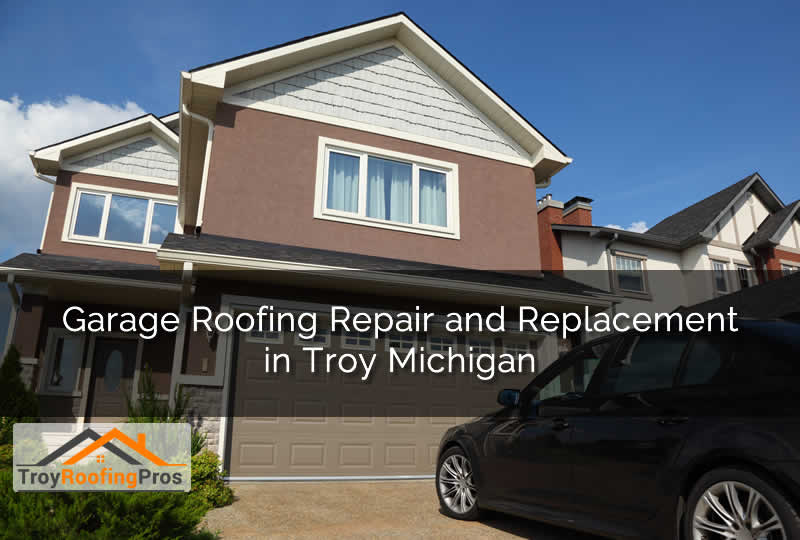 Aging roofing materials such as shingles can deteriorate over time and weaken. Once this happens the shingles are more likely to break during storms or on windy days. Once this happens you'll likely start having leaks in your garage roof. A roofing inspection can locate problem areas before they start to leak. At Troy Roofing Pros we offer a free roofing inspection in the Troy Michigan and surrounding areas. We can look at your current roof and inform you of any problem areas that you'll need to address. Preventative repair on a roof can save you lots of money. By stopping a leak before it damages ceilings, walls, and items in the garage you can save a lot of money. Contact the roofing experts at Troy Roofing Pros today to schedule a free roofing inspection for your garage.
Need Roof Repair & Replacement on the Garage of Your Home in Troy, MI?