After some time vinyl siding starts to lose it's luster. Especially on vinyl siding that was installed over a decade or two ago. Since then, many improvements have been added that can improve the look and durability of the vinyl siding for your home. If your home's vinyl siding is looking a bit under the weather then it's time to call Troy Roofing Pros to get  a free estimate on new siding for your home. We can install and repair vinyl siding in the Troy Michigan and surrounding areas. In this article I'll look at some of the problems you may have with older siding. 
Vinyl Siding in Troy Michigan Tips
Wrapping in your home in vinyl siding is one of the best investments for your home for the price. Unlike bricks or wooden siding, vinyl siding in Troy, Michigan, is much less expensive. And the best part is that it gives you an amazing looking exterior for much less than comparable sidings and exterior covers. But like everything else there comes a time when it could need to be replaced and when it does it's best to get professional installers to make sure it's done right. Here are some tips that you can use to get new siding on your home in Troy Michigan.
Look for Cracks in the Siding
One problem that occurs a lot with siding that is getting a bit of age on it is that cracks can appear in the siding. Once these cracks appear then you'll likely need to get the siding replaced. You can opt to only have the cracked pieces repaired or replaced but once they start then you can look for other areas that will have the same problem.
When a crack occurs in the vinyl siding the water can get behind the siding and damage the sheeting that is under the siding. Other barriers may be in place that can help to prevent damage. However, many installers will sometimes leave this barrier out or only wrap the house on lower elevations. If this is the case with your home then you'll certainly want to remove all the siding and replace the siding with new siding and ensure there is house wrap under the vinyl siding as a barrier.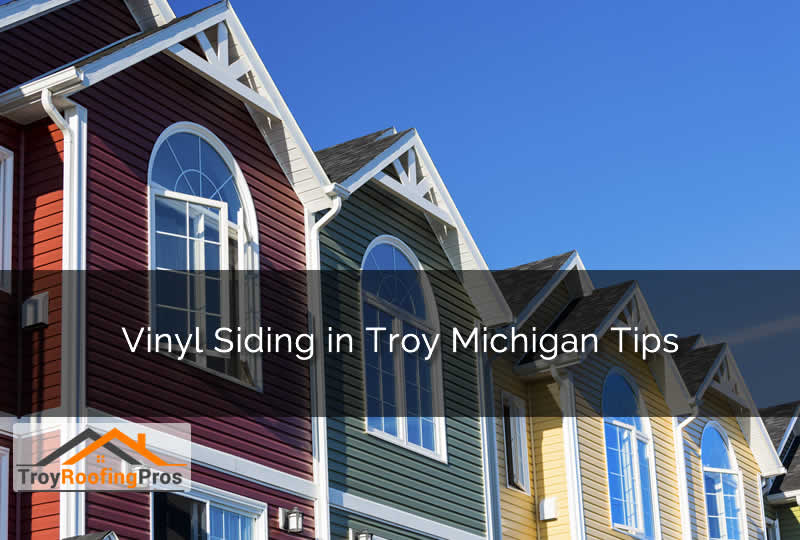 Warping Siding can be a Sign of Bad Installation
There are many different reasons for the vinyl siding on your home to warp and crinkle after some time. Don't forget that the vinyl siding will melt with heat so if there is a heat source near the vinyl siding then it could certainly melt and warp. One of the most common reasons for heat to wrinkle the siding is from a barbeque grill that is placed to close to the home. Other reasons could be car exhausts directly on the vinyl siding or a fire pit with close proximity to the vinyl siding.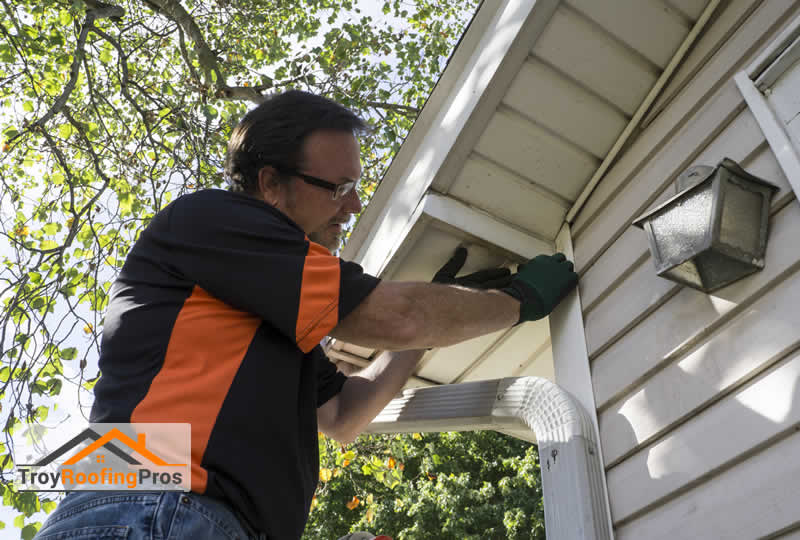 But there could also be a problem with the install of the siding. Temperatures affect the siding just like everything else. It causes it to expand and contract during the days and nights. This movement is understood and accounted for in a correct install. Unfortunately, when installers do this improperly the outcome is warped siding. This doesn't always show up right away either. It could take years before you notice it. That's why it's so important to get experienced professional installers for vinyl siding in Troy Michigan for your home.
Don't Get a Mis-Match Repair Done
Vinyl siding now comes in all sorts of colors and designs. And the vinyl siding today has much better fade resistance than earlier models. Because the vinyl siding can fade so much over time it's very difficult to match older vinyl siding with newer colors. Even like colors will be different because of fading. If you're planning on getting  your vinyl siding repaired be sure to talk with the installer about this problem.
If you're ready to get new vinyl siding in Troy Michigan on your home be sure to call Troy Roofing Pros today. We can give you a free estimate on the vinyl siding job on your home. We do vinyl siding repairs and we can also cover your entire home with new vinyl siding. We offer quality service at an amazing price. Talk to one of our staff today for more information.
Get a Free Siding Estimate Today! 
Tips for Vinyl Siding in Troy Michigan: What Every Vinyl Siding Owner Needs to Know