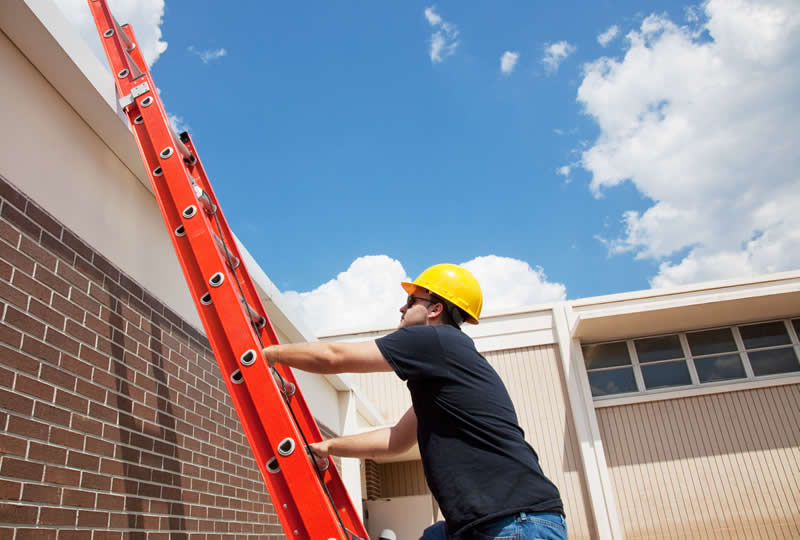 Roof repair and leak investigation requires specialized skills and experience, years of experience.  At Troy Roofing Pros, we have the skill, knowledge and over 22 years of experience repairing roofs.  Why replace a roof when it can be repaired!
We are roofing specialists you can trust to provide high quality roof repairs at affordable, competitive pricing.    As a local roofing company in Troy, Michigan, we service the community and neighboring cities.  Our customers are both residential and commercial property owners.
There are generally two types of roof repair.
Emergency Roof Repair
Roof Repair as an Improvement to Your Property
Emergency Roof Repair
Roof repairs often result from inclement weather such as high winds, storms, excessive snow and cold weather.  We are available for all emergencies to your roof 24/7, all year round.
When the snow piles up or ice forms on your roof, we can shovel and safely remove it without damaging the surface of your roof.  In windy, stormy conditions when leaves, branches and loose shingles compromise the roof's strength, we can clear it and replace shingles in a safe, timely manner.
These are projects for professional roofers.  Call us at 248-509-8015 or leave a message through our website, 'Contact' section, at http://www.troyroofingpros.com.  We will respond to your inquiry within the hour.  Timing is important when your roof is compromised.
Roof Repair as an Improvement to Your Property
When you are looking to improve the look of your property or its value in the marketplace, a well-maintained roof is high on the list.  A roof can last 20, 30 or even more years.  Make no mistake though.  Your roof is 'outside'.  It is subject to the elements and natural wear and tear of time.
A well-maintained roof not only protects the property's contents, it adds value to your property and life of your roof.  We recommend annual inspections to your roof and pieces connected to the roof.  You may even consider updating your roof by adding or replacing trim, siding and gutters.  We can recommend improvements that will increase your residential or commercial property's overall look and value.
Roof repairs may be small or large projects.  Our team of roofing experts and roofers take pride in securing your property with a well-sealed, safe roof.  Our roof repair specialists offer services for the following projects:
Roof Repair
Leak Investigation
Chimney and Ventilation Repair
Flat Roof and Commercial Roof Repair
Siding, Gutter and Trim Repair
Skylight and Solar Panel Repair
Roof Repair – As previously mentioned, weather is a major cause for your roof's need for repair.  It can have damage from ice, wind or trees and other debris that comes in direct contact with the roof.  Sun, heat and rain can also play a role in causing your roof to crack and cause extreme circumstances of wear and tear.
We thoroughly inspect your roof to find the cause for the effect of your ailing roof.  We make repairs that go down to the wood frame at times.  If the frame is rotted or otherwise compromised, shingles and seals will not last.
It is not uncommon for shingles to loosen over the years and even for the chimney or chimney flashing to be the cause of a leak.  And, sometimes, defective or worn siding, vents and gutters can be the culprit.
Our experienced, GAF certified and licensed roofing contractors will evaluate and give you their recommendations in writing along with an estimate.   As soon as you approve the repairs, a crew of roofers will be onsite.  Most projects can be completed in one day.  Minimal inconvenience to our customers is a priority to us at Troy Roofing Pros.
Leak Investigation – Leaking water is easy to see, however, finding the elusive source of a leak is a tough job.  Our roofing experts not only have experience but utilize state of the art equipment and methods for finding the source of leaks.  We will find the source and do the repair so that it does not come back.
Chimney and Ventilation Repair – Thawing and refreezing of wet brick and other materials on the roof cause rapid deterioration of the chimney and other ventilation materials.
Thus, the chimney or vents themselves can be the source of leaks.  These leaks get into your home, often causing drips to absorb into drywall or plaster.  Over time, cracks and softened drywall are the result.
Our roofers can replace or fix the chimney and vents.  We will provide a crew of roofing contractors to repair interior damage as well.  They can remove all damaged materials and clean and seal the area.  The result will not only look good but last for years to come.
Flat Roof and Commercial Roof Repair – There are many types of roofs.  It is important to hire a roofer who has experience with the type of roof on your home or commercial building.  Flat roofs are common for commercial buildings.
Flat roofs have their own unique characteristics relative to drainage, pooling and debris collection.  We have many years experience with flat roofs.  Contact us immediately when you suspect a leak or weakness.  Flat roof leaks spread as water tends to pool and settle.
Siding, Gutter and Trim Repair – Gutter and downspout leaks are easily fixed by our crew of roofers.  Left unattended, these leaks can cause major problems due to poor drainage.  Call us before it becomes a 'big' roof repair.
Siding and trim that comes loose can cut into roofing and cause leaks.  Have them replaced and reaffixed timely to minimize future damage.
Skylight and Solar Panel Repair – Skylights and solar panels are affected by the weather outside, be it cold or hot.  These wonderful enhancements to our property have seals that can loosen and otherwise weaken causing leaks into your home or business.  Regular maintenance and attention to their condition is your first line defense.
At Troy Roofing Pros, we offer an endless amount of professional roofing services to keep your property safe and looking beautiful.   We guarantee your 100 percent satisfaction in all roof repair work.  Standing behind our roofers and their work is always a priority.  Call us at 248-509-8015 in Troy, Michigan today.  Why replace your roof when it can be repaired!!