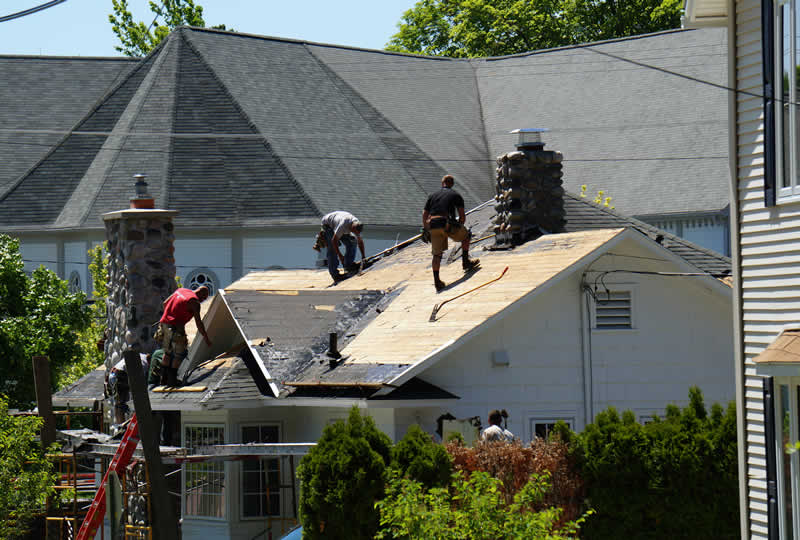 We are proud to be the preferred roofing contractor for all residential and commercial roofing projects in Troy, Michigan and the surrounding cities.  Our dedication to exceptional customer service, training and quality is the hallmark of our success for 22 years and counting.  We are Troy Roofing Pros.
Established In Response to Your Need
Our residential and commercial roofing services were established years ago when we recognized we needed to address issues that were faced by homeowners and property owners regularly.
Very few companies offer dedicated services with the purpose of repairing and maintaining roofs.  We believe a maintained and repaired roof can offer an extended life to a roofing system as well as look appealing.
You can be assured our fast, professional response will result in nothing but the best in workmanship and quality service.  We react immediately to emergencies, 24/7, 365 days of the year.  Someone is always available to receive your call at 248-509-8015 or contact us from our website at http://www.troyroofingpros.com.
Our Staff
We are a local roofing contractor serving hometown people.  Our reputation for honesty and integrity is no accident.  We have worked hard and continue to invest in our staff at all levels to ensure we extend the best customer service and workmanship the industry has to offer.
We hire only motivated and qualified people.  As a company, we regularly train our staff in new processes while reviewing and maintaining basic skills.  All of our workers are friendly, professional and well qualified.  We believe nothing takes the place of experience.
Our roofing company has completed thousands of projects.  Customer testimonials consistently confirm our reputation of quality service in a friendly, timely manner.  We can honestly say, majority of our business is from referrals and repeat business.
All roofing professionals are fully licensed, insured and certified.  As a roofing contractor, Troy Roofing Pros holds insurance certificates covering its workers and your property at all times.  We believe in safety and following all industry standards.
Our office professionals are trained, experienced and well qualified to handle all insurance related matters.  They streamline the insurance claim process so that there are no surprises, and your roof can be repaired, maintained or replaced in the most time effective manner.
Residential and Commercial Services
The majority of our roofing projects are roof repair and roof maintenance oriented.  Roof repairs and maintenance are a vital part of the health of your roofing system.  When a problem arises, it must be repaired as soon as possible to minimize if not avoid any further exterior or interior damage.
When damage becomes aggravated because something has been missed or overlooked, it can start to cause structural damage.  Structural damage is more costly as the scope of the roof repair is more involved.
Your first line defense to warding off big repairs is proper maintenance.  Maintenance simply means a roofing professional inspects your roof periodically.  The inspection may be annually, biannually or quarterly.  You and the roofing specialist will decide based on the condition of your roof.
We have a maintenance program we offer to our customers.   It is renewed annually.  The program consists of the following:
Roof Analysis/Inspection – We start by doing a roofing system analysis. This includes every aspect of your roof and its attachments.  Chimneys, flashing, gutters, downspouts, siding and vents are all part of your roofing system.  We inspect it all to make sure it is properly in place, free from debris and otherwise properly functioning. We document our findings in a written evaluation.  Our roofing professional will review all the findings with you or the designated representative from your business.
Repair Budget as Necessary – Repairs and maintenance projects may be recommended and necessary to avoid deterioration or further damage. We will work with you to prepare a maintenance and repair budget to improve and maintain the integrity of your roof.  We will not do any work without your approval, however.
Roof Replacement Budget – The initial inspection will uncover the age and overall condition of your roof. We will estimate the life of your current roof.  Though this may sound unnecessary, it is important to plan for short or long term roofing projects.  They can be costly.  We help our customers plan and budget.  Your roof protects you, your family, employees and contents.  It is an important but necessary asset.
Inspection Schedule – After the initial inspection of your roofing system, we will consult with you relative to the inspection schedule going forward. After each scheduled visit, we will provide a detailed, written analysis.
Warranty Information – Our roofing repairs, maintenance, products and materials all have some type of warranty. We provide a copy to you as well as keep a copy for our files.  We always stand behind our work and utilize products and materials that are warranted.
Record Maintenance – We maintain a database with all the information relative to your roof. We believe that keeping the historical records can assist us with recurring issues and better identify patterns of roofing problems.
Results are in 'Green' – We believe the maintenance program saves our customers money over time. And, paying attention to your roofing system regularly also saves on energy costs.  If seals and shingles are loose, cracked or even missing, air conditioning and heat seep out.  This is not only costly but wastes resources.  We aim to save the green!
Please join our many satisfied residential and commercial roofing customers.  Troy Roofing Pros has a proven reputation of providing the quality roofing services you need at competitive pricing.  Call us today 248-509-8015 and start saving the 'green'.