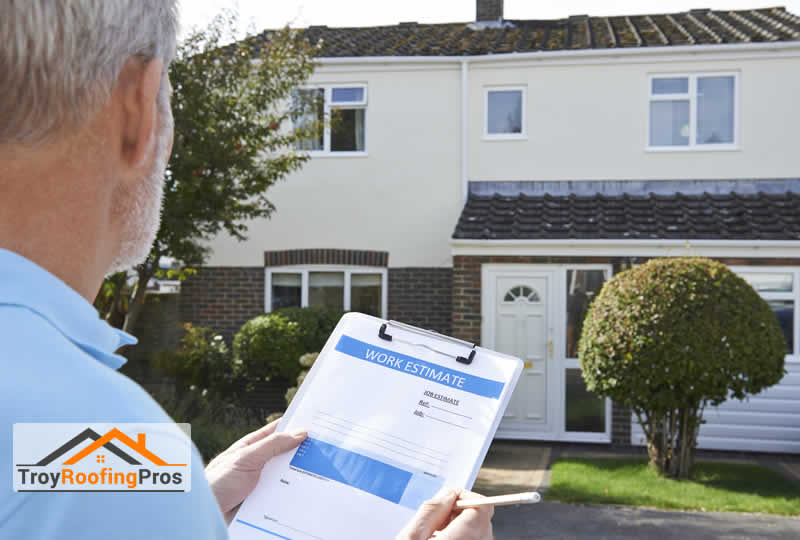 Are you in the market for roof replacement or roofing services?   We can provide you with an honest and accurate, free roof estimate.  We are your local roofing contractor in Troy, Michigan and have been trusted in the community for more than 22 years for our integrity and quality roofing services.
We are Troy Roofing Pros.   We offer our services to residential and commercial property owners in the cities, villages and townships that make up Oakland County in Michigan.   We are a family-owned and operated business and treat your roof as if it were are own.
No roofing project is too big or small when the security of your property and its contents are at risk.   We always start with a no cost, no obligation inspection of your roofing system followed by a written evaluation and estimate.
We offer an array of services for your roof and all its attachments.  These projects include installation, maintenance and repair to the:
Roof
Garage Roof
Gutter, Siding and Downspouts
Ventilation
Chimney
Skylights and Solar Panels
Roof
Your roof should be maintained regularly.  We can help you with the timing of maintenance by inspecting the roof.  We suggest annual, biannual and quarterly inspections depending on the condition and age of your roof.
One of our highly qualified and experienced roofing specialists will inspect your roof thoroughly and include as part of his evaluation, the estimated remaining life of your current roof.  We maintain this information in a database along with other information found regarding your roof.
Upon completion of the inspection, recommendations regarding debris removal and minor repairs for loose shingles or leaks will be brought to your immediate attention.   While our inspections come with a no cost, no obligation guarantee, we are usually given the project of remedying the repairs as needed.
All projects are completed in a timely manner and at the cost as estimated in the initial inspection.  We offer our 100 percent satisfaction guarantee at all times.  And, we stand behind our work.  If you discover something after our team of roofers complete the project, we honor all warranties and follow-up accordingly.
Garage Roofs
We also service garage roofs.  After all, a garage is storage for property like your cars, lawn and winter equipment.  The roof must be maintained to ensure your property is safe and secure just as you would for your home.
We can inspect your garage roof when we are doing our regularly scheduled maintenance inspection of your residential roof.  Again, all roof estimates are free.  Regular maintenance will result in a longer life expectancy of your current roof and catch small repairs before they become ones.
Gutters, Siding and Downspouts
Gutters, siding, and downspouts are all integral fixtures to your roof.  When any of these pieces are loose, missing or misdirected, leaking and water damage may result.
We will inspect all gutters, siding and downspouts as part of our inspection.  Gutters tend to collect debris; siding often comes loose as the result of regular wear and tear as well as exposure to the weather and downspouts can come loose and become misdirected.
Attention to these roofing fixtures a few times throughout the year can make all the difference in keeping your home free of leaks and unwanted water into your home.
Ventilation
Roof ventilation is often overlooked.  A well-ventilated roof is imperative for the safety and security of the roof as well as for the comfort and safety for those living beneath the roof.
In the summer, hot air that is trapped causes your air conditioner to overwork and makes the living spaces less comfortable.  In the cold winter months, if insulation is not adequate resulting in minimal heat from the roof, snow that collects melts slowly and even encourages ice dams.
Inspection of the roof ventilation system in the attic as well as insulation quality, quantity and condition is always part of our process.  Our team of roofing professionals is knowledgeable at what goes into making your roof function properly.
We can even offer recommendations for improving the ventilation of your roof by adding roof vents such as ridge, soffit or gable-end vents.  You can count on us at Troy Roofing Pros.
Chimney
When was the last time you considered the condition of your chimney?  The chimney is a major source of ventilation that connects the air in your home to the air outside.  The chimney is often blocked by debris while seals and mortar that make up and secure the chimney are often damaged.
Regular roof inspection and a plan for roof maintenance and repair should include the chimney.  It takes only minutes for an experienced roofer to inspect the chimney.  Let us include it in our regular roof inspection.
Skylights and Solar Panels
Skylights and solar panels are extras that have been added to a residential home or business property for energy efficiency and the charm they offer in lighting and warmth.  They should be considered for inspection and regular maintenance to maintain their integrity and overall usefulness.
If you do not have skylights or solar panels, an inspection of your roof 's interior and exterior may give way to a recommendation that you consider one or both of these enhancements.
Free Roof Estimate
Our free roof estimate can and will include so many things.  It just makes sense to have regular roof inspections of your most valuable investment, your residential home or commercial business property.
Call us at Troy Roofing Pros, 248-509-8015 in Troy, MI or leave us your 'Contact' information through out website at http://www.troyroofingpros.com.  We are available 24/7, all year-round and will respond within the hour.  Schedule your roof inspection today!!