The single biggest investment most of us make are our homes. Protecting our homes and keeping them in good shape is a goal for most of us. One area that is commonly overlooked however is the attic ventilation in a home. Unfortunately, most of us never go into the attic and if something is wrong it's difficult to discern. At Troy Roofing Pros we offer roofing service in Troy Michigan to help you find problems with your roofing system. And if you're attic ventilation is not working properly your roof could suffer along with your energy bills. 
Using Proper Attic Ventilation is a Must for your Roof
Your home's attic ventilation is designed to remove hot air during the summer months. Removing this hot air can help your air conditioner cool the home more efficiently. Unfortunately when there is a problem with the attic ventilation it can cause damage to your home and also run your energy bills through the roof (no pun intended). In this article I'll discuss more about attic ventilation and why it's so important.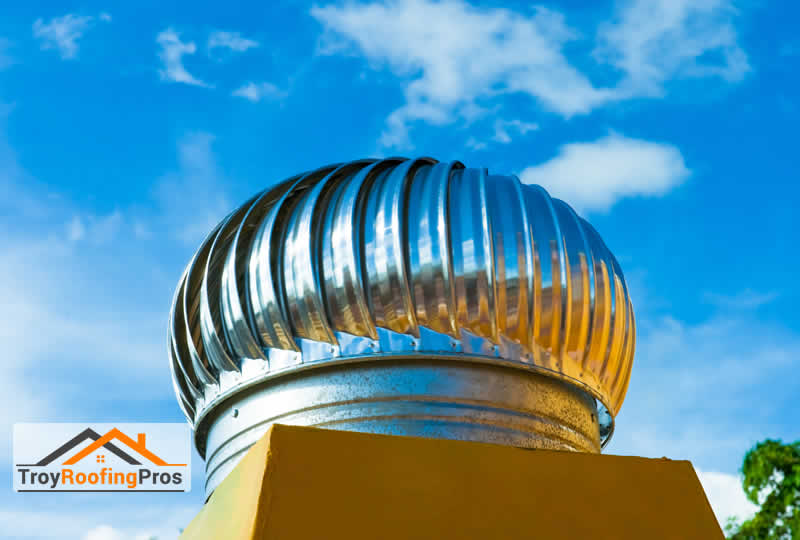 Attic Ventilation Can Help Cut Heating and Cooling Costs
During summer months the heat build up in your attic can be much higher than the outside temperature. The attic temperature can be extremely high and may even be dangerous to enter during hot times of the day if the attic is not properly vented. This is especially true if there is little shade on the roof and the roof color is dark. Even with dark roofs however you can still cool the attic using proper ventilation.
For Winter months the attic ventilation keeps the moisture level lower which helps to protect the roof from all sorts of problems. Attics without proper ventilation can have a moisture problem that can lead to problems with premature failure of the roof due to rotting wood. The moisture can also attract insects such as ants or termites which can be devastating to a home.
In homes where moisture is found for longer periods of time you may even experience a problem with mold. Mold grows in areas that remain moist for long periods and your attic could be a prime spot if it's not properly vented.
Even if your attic already has ventilation installed you'll need to make sure it's adequate in order to remove moisture and cool the attic. And with improper ventilation you can also cause problems as well. You need enough attic ventilation to keep it cool and dry but not too much where your home's heating and cooling is dissipated through the roof.
Proper Ventilation Doesn't Allow Animals Inside
A common myth that many will tell you about attic ventilation is that animals can get inside the home. Modern attic ventilation methods have protection screens in place that do not allow animals or birds to enter the attic. Squirrels are one of the animals that can enter an attic if it's not using modern ventilation. At Troy Roofing Pros we offer roof repair in Troy Michigan and only install vents that keep animals out of your roof.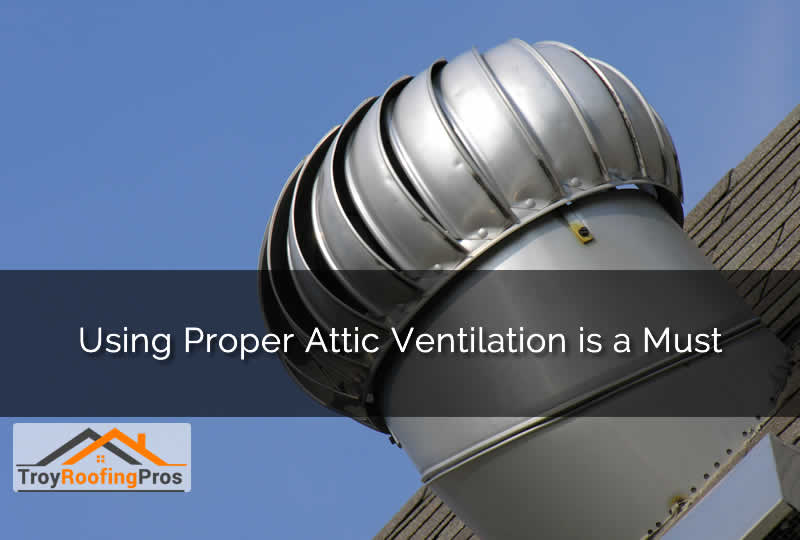 Using Vents Can Be Noisy
If your home has older style vents that have moving louvers it can become noisy. Squeaks are common for vents that were made a few years ago. If you notice a vent is squeaking it may need to be replaced. Once the louvers fail to open and stick in a shut position the vent will no longer be effective. Inspecting ventilation is one of the things we offer when we do a roof inspection in Troy Michigan.
Extending the Life of Your Roof with Ventilation
Adding ventilation in the attic of your home can help to lengthen your roof's life. It keeps moisture at bay and allows it to save on energy costs by letting hot air out during the summer months. But just having attic ventilation is not enough. Actually you need to make sure the attic ventilation is properly installed so that it performs as it should. Sometimes attic ventilation fans are one-way so proper installation is key to them working correctly. At Troy Roofing Pros we can install attic ventilation in your home. We offer fast and friendly service in the Troy Michigan area. If you're looking for attic ventilation installation or roof repair in Troy Michigan be sure to give us a call today at 248-509-8015
You Must Be Using Proper Attic Ventilation in Your Michigan Home