Is the roof on your home leaking? Many times during the stormy seasons a small roof leak can develop that damages the inside of your home. When that happens getting a qualified roofer in Troy Michigan to come out and make roof repairs is a must. At Troy Roofing Pros we offer a wide variety of roofing services to ensure your home is protected today and tomorrow against the weather elements. We offer fast, reliable roofing services in the Troy Michigan and surrounding areas. We'll discuss why we are your best choice for roofing in Troy Michigan here. 
When You Need Roofing in Troy Michigan, Call On Troy Roofing Pros
One of the best ways to protect your home's roof is with regular roof inspections. By getting an annual roof inspection you can find potential problems on your home's roof before it starts to damage the interior of the home. At Troy Roofing Pros we offer roof inspections to help you keep your roof performing as it should and continuing to protect your home for years to come.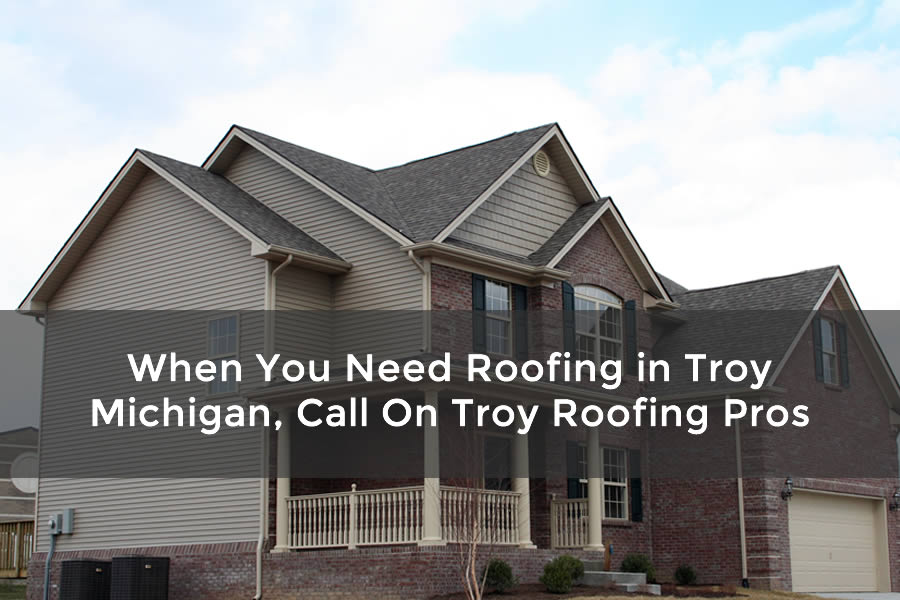 Experienced, Professional Roofers
One of the biggest mistakes most home owners make when it comes to hiring someone for roof repairs or roof replacement on their homes is that they don't hire experienced professionals. At Troy Roofing Pros we have been serving this great community for over 20 years providing top notch roofing services at affordable pricing. We have experience in many of the major roofing materials and roofing manufacturers today. Here is a list of just some of the roof types we have years of experience in:
Asphalt Shingle / Fiberglass Shingle roofing
Metal Roofing
Flat Roofing
Tar and Gravel Roofing
Tile Roofing
And More
As you can see we have extensive experience in a variety of different roofing types. Most homes in Troy Michigan have asphalt shingle roofing in which we have decades of experience. Having a roofing contractor that does not have any experience can leave you with a roof that may not hold up well over time. Would you want someone to experiment on how to install a roofing product on your home? Be sure to hire Troy Roofing Pros for your roofing needs as we are a experienced professional roofer in Troy Michigan.
Fully Licensed and Insured Roofing Contractor
There are many roofing contractors in the Troy Michigan and surrounding areas. However, be aware that not all of these roofing contractors are licensed and insured. Not only that they may not even be qualified to make roof repairs or install a new roof on your home. Allowing a roofing contractor on your home may seem like an inexpensive way to get your roof repaired but it can end up costing you lots later. No one wants to think about an accident happening but, accidents do happen, and when they do it's best to have a roofing contractor who is properly insured to cover it. Without insurance the liability may fall to your home owners insurance which may make your rates go up. At Troy Roofing Pros we're fully insured so you know you're protected.
You'll also want to ensure the roofing contractor is fully licensed and qualified. Roofing material manufacturers offer warranties on their roofing products for many years. In fact, some of the warranties offered today are 50 years of protection. However,  there are guidelines that must be followed for this warranty to be honored. By using a roofing contractor that isn't fully qualified on your roof you may void the warranty on your entire roof simply by using them. Make sure the roofing contractor you choose for your home is fully qualified for the roofing material that is on your home for best results and to keep your warranty in tact.
Many Roofing Services Offered
At Troy Roofing Pros we offer a variety of roofing services to ensure your roof is in great shape at all times. From simple roof repair to a full new roof install we can help. We also offer a variety of other related services as well such as roof inspections and gutters.
Get a Free Consultation Today
Be sure to contact Troy Roofing Pros today for a free consultation on your roofing project. We are a fully qualified roofing contractor in Troy Michigan with excellent customer service. Call us today at 248-509-8015
When You Need Roofing in Troy Michigan, Call On Troy Roofing Pros