When it comes to making your home look completely different, one thing that you can do is to change the siding on your home. Putting on new vinyl siding can make your home look much better and really add lots of curb appeal to the home. But sometimes getting a contractor that specializes in siding is difficult and most don't offer free estimates. Until now. At Troy Roofing Pros we offer free siding estimates so you'll know just how much you'll need to pay for your new siding without any hidden fees or extra charges. We want out customers to be satisfied and we'll go that extra mile to make sure that you are satisfied with any work that we do.
Free Siding Estimates at Troy Roofing Pros
If you're thinking about getting new siding for your home but you're not sure be sure to talk to one of the professionals  here at Troy Roofing Pros. We'll be glad to go over the different styles and colors of siding that is available today to help you better understand just how the entire process works and also just how much each selection will cost.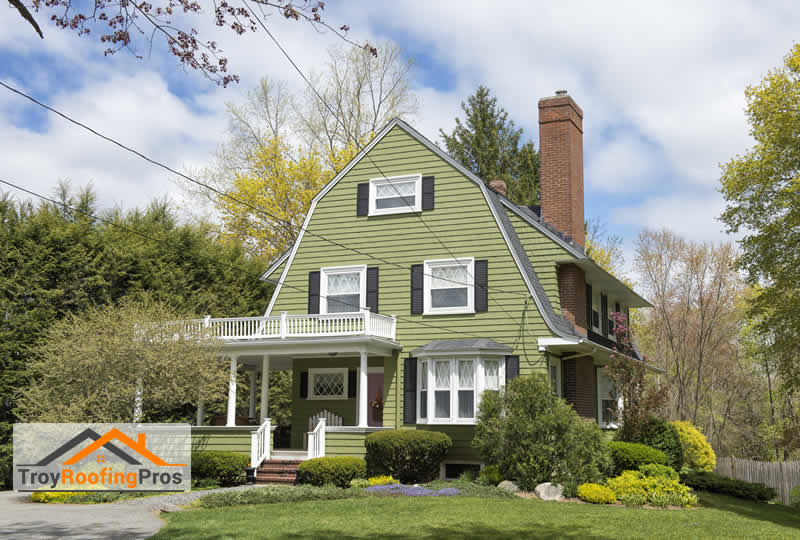 We can Also Handle Soffit and OverHangs
The professionals at Troy Roofing Pros can also do all of your eves work as well. This includes wrapping columns, installing railings, eves, overhangs, and more. We're a full service roofing and siding company that can handle everything for your home's exterior. And we do this all while giving you the cost up front. With a free siding estimate from Troy Roofing Pros you'll know how much you're going to pay before we start the work.
Finding the Perfect Siding for Your Home
If you're ready to make your home look spectacular with new siding you may be surprised at some of the options that are available today. There are many styles and colors of siding to choose from that can take your home from drab and dull to amazing and colorful. In fact there are probably hundreds of color combinations you can go with which includes siding, soffit, and trim work. Talk to one of the professionals here at Troy Roofing Pros for details on the prices and details for the siding you want for your home.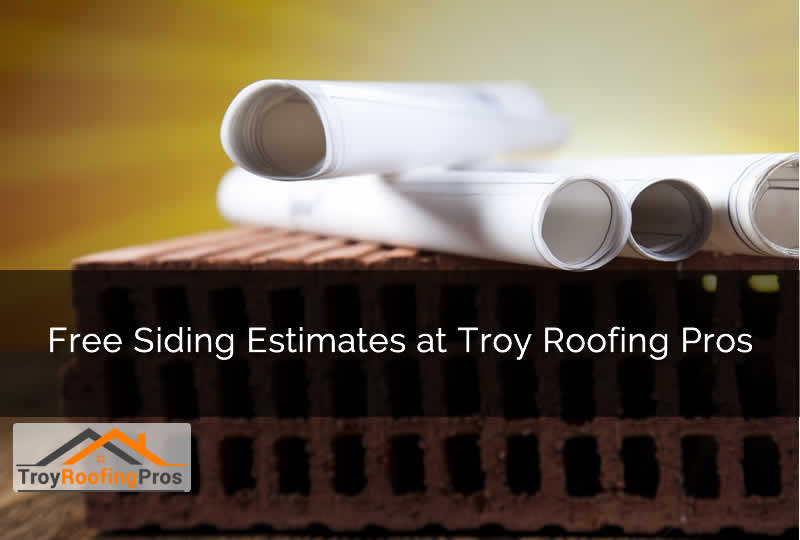 There are also other options that you can choose other than vinyl siding for your home as well. At Troy Roofing Pros we also install all sorts of other siding as well. One of the more popular brands of siding today is James Hardie Fiber Cement siding. It's made stronger than vinyl and really adds a unique look to your home. You can choose a wood grain look in many different colors. They also supply trim work as well so the entire exterior of your home can be covered. Be sure to talk with the expert at Troy Roofing Pros when you're getting free siding estimates for your home.
What All is Included in the Estimate
It's important to know the details about your home in order to give you a good estimate on project. Choices about style, color, and material will all play a part in how much the project will cost. Knowing all these details can help with the free siding estimate so that it's more accurate. For instance, the price of standard vinyl siding is cheaper than cedar style shakes siding. This difference can make a huge difference in the estimate and if you're not sure which you should you the free siding estimate could be incomplete. You can however request that you get two estimates if you're having trouble deciding which materials and such you should use.
Another great benefit of having Troy Roofing Pros help with your siding needs is that we have professional qualified installers who have decades of experience in the roofing and siding industries. We'll give you tips and information that can help your home look better, save you money, and ensure the work is done right the first time. If you're ready to get new siding for your home be sure to contact Troy Roofing Pros today and get a free siding estimate for your next project.
You can call Troy Roofing Pros for your free siding estimates at 248-509-8015
Free Siding Estimates at Troy Roofing Pros